Buy one share of eBay stock as a gift in just 1 minute.

The lucky recipient gets the cool stock certificate and becomes a real shareholder of the company entitled to annual reports, declared dividends, invites to shareholder meetings and any other shareholder perks.

eBay, the internet auction giant, makes a great gift for all ages!
eBay
What you get:
True one share ownership
Personalized display certificate in frame choice
Choice: Authentic Registered Certificate or Account Statement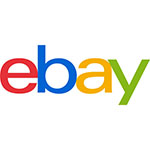 About eBay
eBay Inc. is an online marketplace where people and businesses can buy and sell almost anything. The company also owns PayPal, a payments platform that enables individuals or businesses with an email address to send and receive online payments.
eBay Stock Certificate
The Ebay stock certificate is Intricately detailed. It represents a snapshot of history incorporating the company's name, logo, corporate seal, and printed signatures of corporate officers. Get yours while you can because in the not too distant future, the industry will eliminate physical stock certificates making these valuable collectibles.
Below are some plaque ideas to get your creative juices flowing. You get 3 lines of 35 characters each. Personalized engraved plaques are included with premium frame orders or can be added to paper frame orders.
PERSONALIZED ENGRAVED PLAQUE
ANY TEXT YOU WANT!
SEE OUR IDEAS SECTION
eBay Specific
YOU WERE THE HIGHEST BIDDER<BR>YOU WON MY LOVE!<BR>HAPPY "PAPER" ANNIVERSARY
TO THE MAN WHO KEEPS EBAY<BR>STOCK PRICE HIGH!<BR>MERRY CHRISTMAS - LUV, TINA
EBAY SELLER<BR>NOW EBAY SHAREHOLDER
I SHOP<BR>THEREFORE I AM<BR>EBAY SHAREHOLDER
Generic Ideas
THE ROAD TO A MILLION<BR>
BEGINS WITH ONE<BR>
CONGRATULATIONS SHAREHOLDER!
IN CASE OF EMERGENCY<BR>
BREAK GLASS!<BR>
CONGRATULATIONS!
COLLEGE TUITION - IN 18 YEARS!<BR>
KALIE RESTON<BR>NEW SHAREHOLDER<BR>


"THE FUTURE BELONGS TO<BR>
THOSE WHO PREPARE FOR IT TODAY"<BR>
MALCOM X

MY FIRST STOCK!<BR>
EMMI LEE<BR>
HAPPY 1ST BIRTHDAY
DREAMS DO WORK!<BR>
KEEP UP THE GOOD WORK<BR>
LOVE MOM & DAD
WORLDS YOUNGEST SHAREHOLDER!<BR>MAY THIS GROW WITH YOU<BR>FROM UNCLE DAVE
HAPPY RETIREMENT<BR>
YOU'LL FIGURE IT OUT<BR>
JOHN, SARA, CYNDE

IT IS NEVER TOO EARLY<BR>
TO START BUILDING YOUR FUTURE<BR>
LOVE GRANDMA AND GRANDPA
SMALL THINGS OFTEN BECOME GREAT<BR>
THIS APPLIES TO PEOPLE AND STOCK<BR>
YOUR GODPARENTS
"EVERYTHING'S IMPOSSIBLE<BR>
UNTIL SOMEBODY DOES IT."<BR>
-BATMAN
"THE MONEY YOU MAKE IS A SYMBOL<BR>
OF THE VALUE YOU CREATE."<BR>
-IDOWU KOYENIKAN
SOME PEOPLE DREAM OF SUCCESS<BR>
I STAY AWAKE TO ACHIEVE IT!<BR>
PROUD OWNER
MY VERY OWN STOCK!<BR>
IT'S JUST THE BEGINNING
TWO RULES WHEN INVESTING MONEY<BR>
RULE #1 = NEVER LOSE MONEY<BR>
RULE #2 = NEVER FORGET RULE #1

"SOME MEN SEE THINGS AS THEY ARE<BR>
AND ASK, WHY. I SEE THINGS AS THEY<BR>
COULD BE AND ASK, WHY NOT?"
EACH JOURNEY STARTS<BR>
WITH A SINGLE STEP!
MAY ALL OF YOUR<BR>
DREAMS COME TRUE<BR>
LOVE, AUNTIE ELLEN
MOMMY AND DADDY'S<BR>
BEST INVESTMENT<BR>
LUCA & EMILIA
FUTURE CEO!<BR>
BORN: MAR 16, 20XX - 6LBS 7OZ 21"<BR>
CONGRATULATIONS
BORN TO BE RICH!!!<BR>
DEC 21, 20XX 6LBS 7OZ 21"<BR>
SARA POUT
INVESTING IN YOUR FUTURE<BR>
LOVE MOM & DAD
WEALTH STARTS HERE<BR>
OFFICIAL SHAREHOLDER<BR>
ANDY SMITH
"IT'S MONEY. I REMEMBER IT FROM<BR> WHEN I WAS SINGLE."<BR> -BILLY CRYSTAL
WORK HARD, BE KIND, INVEST,<BR>AND ALWAYS TRY YOUR BEST<BR>LOVE, MOM AND DAD<BR>
"DREAM AS IF YOU'LL LIVE FOREVER<BR>
LIVE AS IF YOU'LL DIE TODAY"<BR>
JAMES DEAN