Stock Certificates
A stock certificate is more than just a piece of paper that proves ownership in a company. It can be an attractive work of art and a snapshot of history. It's also an important part of a stock gift that grabs attention and can be proudly displayed.
Collectible Value
To save money, the securities industry is moving to register ownership electronically rather than issue paper stock certificates. Along with normal corporate actions like mergers, this effort is making physical stock certificates increasingly rare raising collectible value (see below). For example, a Pixar certificate with Steve Jobs printed signature sells for more than $500 on collectible sites (see right).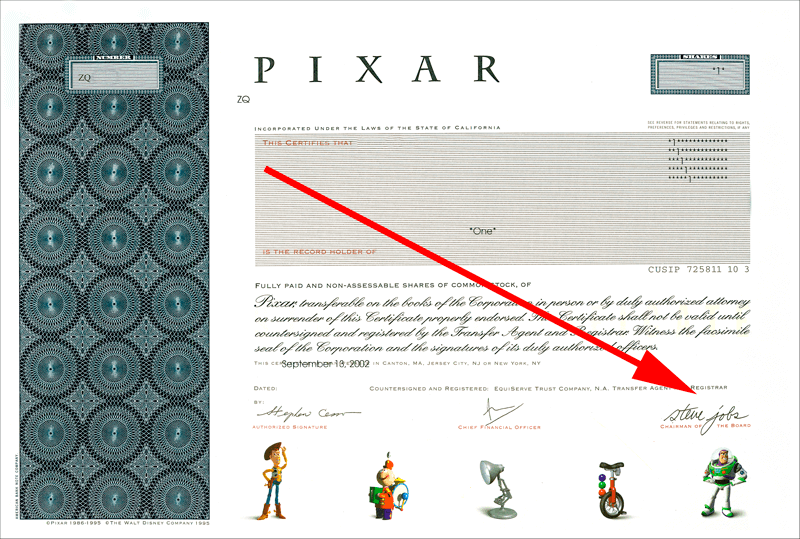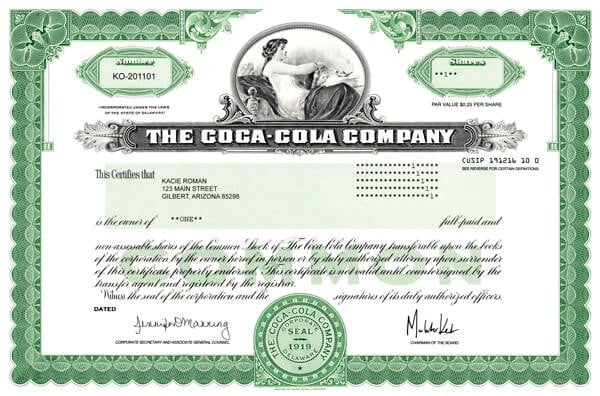 Only At GiveAshare
Stock brokers stopped providing stock certificates (or imposed huge fees) years ago. Now, GiveAshare is the only place to easily and affordably get authentic paper stock certificates. For the companies that only register ownership electronically, we have attractive replicas that we personalize.
See companies on our list that still offer registered stock certificates.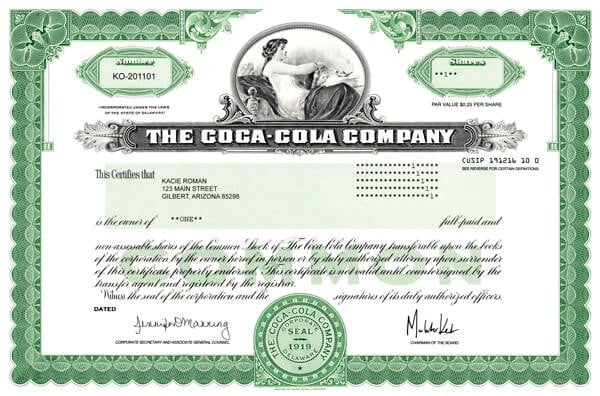 Latest Certificates To Bite the Dust

Dunkin Brands
Acquired by Inspire Brands Dec 2020

Craft Brew
Acquired by Anheuser-Busch Sep 2020

WebMD
Taken private Sep 2017

Petsmart
Went private in 2015

Orbital Sciences
Merged with ATK in 2015
1-800-Flowers
Went paperless in 2014
Dell
Went private in 2013 then came back paperless later

GameStop
Went paperless 2013, then paper in 2020, then paperless again in 2020
You can still buy Gamestop stock

SeaWorld
Issued about 10 certs after IPO then went paperless. Go figure?
You can still buy SeaWorld stock

Steinway
Taken private in 2013

Human Genome Sciences
Acquired by Glaxo in 2012


General Motor New
Emerged from bankruptcy - paperless 2010
Motorola
Split into two companies, both paperless in 2012

Apple
Apple went paperless 2010. Congratulations to all our past customers who got a real one!
You can still buy Apple stock

Burger King
Went private in 2010

Palm Inc.
Acquired by HP in 2010

World Poker Tour
Assets acquired by PartyGaming in 2009

Marvel
Acquired by Disney in 2009

Wyeth
Acquired by Pfizer in 2009

Visa Intl Inc.
Went paperless in 2009

Wm Wrigley Company
Acquired by Mars Inc., a private company

Merrill Lynch
Acquired by Bank of America in 2008

ImClone Systems
Acquired by Eli Lilly in 2008

Pixar Animation
Acquired by Disney in 2007. These collectible certificates sell for over $500 on collectible sites!
Elimination of Paper Stock Certificates - Chronology
Like everything else, stock ownership is going digital! The securities industry calls it "dematerialization" - we call it sad. Brokers no longer provide stock certificates (or charge a huge disincentive fee) and a growing list of companies like Disney have stopped issuing paper. The industry-wide effort started over 30 years ago but momentum is building:
2018-19 - The pace of companies eliminating paper certificates quickens.
2015 - Computershare, the largest transfer agent in the U.S., announces it will charge a $25 disincentive fee to issue paper stock certificates.
2008 - 1/1/2008 was the target date established for all companies on the NASDAQ and NYSE to be set up on the DRS. Although the target gets moved out, most companies comply.
2007 - As of 1/1/2007, any new issue on NASDAQ or NYSE had to be eligible for electronic registration on the Direct Registration System (DRS).
1970's - Brokerage firms took the first step to streamline paperwork by establishing a central depository, the Depository Trust Company (DTC) where all stock certificates could be maintained.
2006 - Delaware, the state where many companies are incorporated, changed its state law removing the requirement for physical stock certificates. This got the ball rolling.
1960's - Financial district messengers carried satchels of stock certificates from one broker to another. During peak periods, the stock market would be closed one day a week to allow brokerage firms to catch up on paperwork.
CNBC story: Facebook and other valuable stock certificates