New Stock Gift Alert: Buy Beyond Meat Stock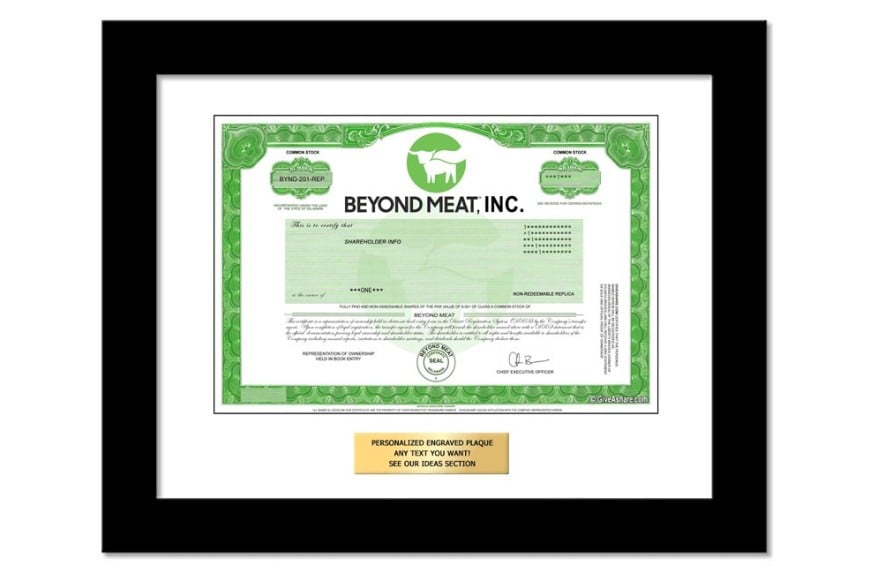 Do you have a vegetarian, vegan, or flexitarian friend or loved one? Never heard of the term "flexitarian"? A flexitarian is a person who still consumes meat but regularly choose meatless alternatives when they can – and almost a third of Americans now identify with the term. There's a variety of reasons one might be a flexitarian, including diet and concerns about animal welfare or the environment. But there's some big barriers stopping people from making the switch from flexitarian to vegetarian: the taste, texture, and variety of plant-based meat substitutes.
Beyond Meat understands these barriers and is rushing to satisfy an increasing market of flexitarians. It's no surprise that since their IPO earlier this year, we've had countless requests to allow people to buy Beyond Meat stock at GiveAshare.com. Calling themselves "The Future of Protein®", they've created one of the best tasting, most accurately textured plant-based burgers out there – along with their other successful faux meats. Not only have they proved to grocery stores that their products deserve a spot in the meat aisle, they have also been making partnerships with various fast food restaurants (including McDonald's, Subway, and KFC, just to name a few).
Christmas is coming up quick so be sure to stop by GiveAshare.com for this unique flexitarian/vegetarian-friendly stock gift.
Write a comment