GiveAshare's "I'm A Shareholder" Wins Prestigious NAPPA Honors Award
FOR IMMEDIATE RELEASE:

CONTACT:
Rick Roman
GiveAshare.com

GiveAshare's "I'm A Shareholder" Wins Prestigious NAPPA Honors Award

Portland, OR, October 1, 2008 – GiveAshare.com's I'm A Shareholder book was named an Honors Award winner in the 2008 National Parenting Publications Awards (NAPPA) Children's Products competition. Full results will be announced Nov. 1, 2008, in more than 40 regional parenting magazines across the country and online at Parenthood.com. This distinguished award recognizes I'm A Shareholder as a standout among books & kits available for children today.

Now in its 18th year, NAPPA is a well-known name in the world of children's learning and entertainment. Parents, relatives and those who work with children rely on NAPPA's recommendation of high-quality toys and products that provide "smart fun," good design, and grow with children's ever-expanding interests and skills.

"NAPPA-winning products meet the most stringent criteria and are judged by nationally recognized industry experts, educators, reviewers and advocates in their fields," says NAPPA Manager Barbara Smith Decker. "NAPPA has set the industry standard of excellence for nearly two decades and is a much sought-after award. When parents see the NAPPA seal on winning products, they're assured of a topnotch fun and learning experience for their children."

I'm A Shareholder is part of GiveAshare.com's SECRET FORMULA for teaching kids about money and stocks. The book is based on the author and founder's experience as a child. His parents helped him purchase Topps Chewing Gum Inc. which was perfect for an avid sports card collector and voracious gum-chewer. "From that point on, I was hooked. I couldn't wait to get home and check the stock quotes", says Rick. I'm A Shareholder is the ONLY book out there intended to be used in conjunction with a share of stock, whether it is from GiveAshare.com or held in an account with a stock broker. It grabs kid's attention and keeps them engaged with vivid colors, compelling content and a unique approach. Rick says that "Kids pay attention because they have skin in the game by owning a share or shares of stock. They get mail from their company and learn along the way".

GiveAshare.com has been selling one-share stock ownership in over 80 world famous companies as unique gifts since 2002. A gift-giver can go to www.giveashare.com (or call 866-291-9918 toll free) and purchase one share of stock as a gift with their credit card in less than two minutes - normally needing only the recipient's name and address. Unlike stock brokers, no account is needed, no minimum balances, and you get the physical registered stock certificate. The recipient becomes a true shareholder entitled to declared dividends, annual reports, invitations to shareholder meetings and anything else any shareholder gets. The registered stock certificates are attractive, ornate, and can be framed with a personalized engraved plaque for an additional charge.

"I'm A Shareholder" book

"I'm A Shareholder" teaches kids the basics about the stocks and money.

Ages 8 & up
45 full, vividly-colored pages, eye-catching graphics, facts and exercises to grab kid's attention.
Comes with a coupon for $10 OFF a share of stock from GiveAshare.com
$13.95 at Amazon.com or $10 at GiveAshare.com with a purchase of a share.
---


ABOUT GIVEASHARE.COM - GiveAshare.com is owned by Leading Edge Gifts LLC and offers real one-share stock ownership in over 80 world famous companies like Disney, Starbucks, and Google as an unusual gift for kids and adults. A person can buy a share of stock as a gift in two minutes with a credit card. The authentic registered stock certificate is framed and the recipient is entitled to anything a real shareholder gets like annual reports and declared dividends. In addition, the company has published I'm A Shareholder which is the ONLY book that is intended to be used with a share of stock whether from GiveAshare.com or a stock broker. the company believes that the book and a share of stock is the secret formula for teaching kids the basics about money and stock.

ABOUT LEADING EDGE GIFTS LLC - Leading Edge Gifts LLC is a privately held company in Gilbert, Arizona. The company's mission is to create radically unique gift ideas that are fun to give and even more fun to receive. Founded in 2002 with the launch of GiveAshare.com, the company built on its success with the launch of GiveAmasterpiece.com in 2005. Leading Edge Gifts LLC has a built a reputation of delighting customers with innovative gifts and superior service.

ABOUT NAPPA - The National Parenting Publications Awards (NAPPA) were created in 1990 to review children's products. It has since expanded into two divisions:

Children's Products – Toys & Games, Music, DVDs, Books & Magazines, Storytelling & Spoken-Word Recordings, Software, Video Games and Websites. Parenting Resources – How-to Books, DVDs and Websites; Maternity and Baby Gear, Accessories, Gadgets and Products that make parenting easier and more fun.

NAPPA is recognized for its service to parents, having won the Parenting Publications of America's Gold Award for Editorial Excellence. NAPPA is a program administered by Dominion Parenting Media, a division of Dominion Enterprises, and promoted in association with parenting publications across the United States and on the web at Parenthood.com.

GiveAshare.com is not a broker and markets shares of stock as a unique and educational gift, not an investment.

- END -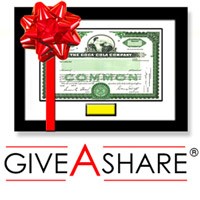 "

I'm A Shareholder as a standout among books & kits available for children today.

"