Snapchat IPO: Opportunity to Turn Selfie-Obsessed Millennials Into Savvy Investors
FOR IMMEDIATE RELEASE - 2/28/2017
GILBERT, AZ (Feb. 28, 2017) – The much-anticipated Snapchat IPO (Snap Inc.) is a rare opportunity to teach Gen X-Z'ers about money.
Survey after survey document the dismal financial literacy of our youth. Only 24% of Millennials demonstrated basic financial knowledge, 30% are overdrawing checking accounts, and 20% took loans or hardship withdrawals from their 401Ks in the last year, according to a PWC survey. In addition, Gen X-Z'ers are known for racking up more credit card and student loan debt than any previous generation.
GiveAshare.com sees Snap stock as a way to pry youngsters' focus away from taking the perfect selfies long enough to help turn the tide. The company specializes in selling single shares of stock as a gift. Customers can choose from a stock list of more than 110 companies. On March 2nd, they can buy Snapchat stock.
"It takes just two minutes and a credit card to start teaching skills they will use for a lifetime," GiveAshare.com founder Rick Roman said.
Giving kids and young adults a share of stock in a company they love, like Snap Inc., is a powerful way to teach them about money and the market. First, the stock certificate is the critical attention-getter. Then each mailing from THEIR company - annual reports, invites to shareholder meetings, and even declared dividends - becomes a learning opportunity.
"Snapchat's suitability as an investment in not important at this stage, the key is to pick a company they love and get their attention," Roman said. "The rest comes later."
Roman founded GiveAshare.com in 2002 to make it easy for others to replicate the his experience as a teen.
"My mom helped me buy Topps Chewing Gum, the perfect choice for a fanatical sports card collector," he said. "It got my attention and changed my life!"
---
About GiveAshare.com
GiveAshare.com makes it very easy for customers to buy one share of stock as a gift. It takes just two minutes and a credit card. Unlike a stock broker, GiveAshare is able to deliver the authentic stock certificate (for most companies). The recipient becomes a real shareholder of the company entitled to declared dividends, annual reports, and invitations to shareholder meetings. The company offers over 110 companies including Manchester United, Nike, Disney, and Nintendo.
Contacts
GiveAshare.com
Rick Roman
For more information on Snap stock at GiveAshare:
https://www.giveashare.com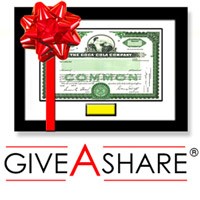 "

Snap is the perfect opportunity to teach millennials skills they will use for a lifetime.

"