Buy One Share of Stock as a Gift
The lucky recipient becomes a real shareholder and receives the one share stock certificate.
A gift of stock is fun, educational, and maybe even profitable too!
Fast & Easy
Select Options

(frame, giftwrap...)
Provide Shareholder Info

(name, address, adult if under 18)
How it Works
Your stock gift comes in 2 parts:
1st Part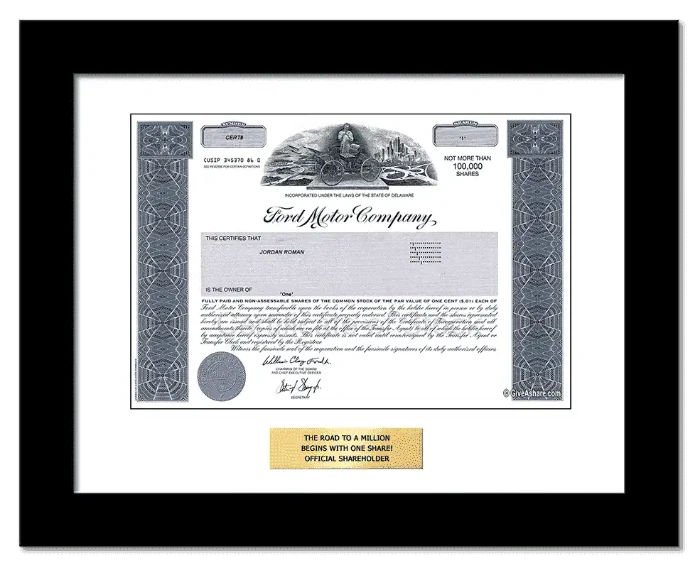 Personalized Replica Stock Certificate
Leaves our AZ facility in 2 business days or less
Framed per order: Paper or Premium with plaque
Mailed to Shipping address
2nd Part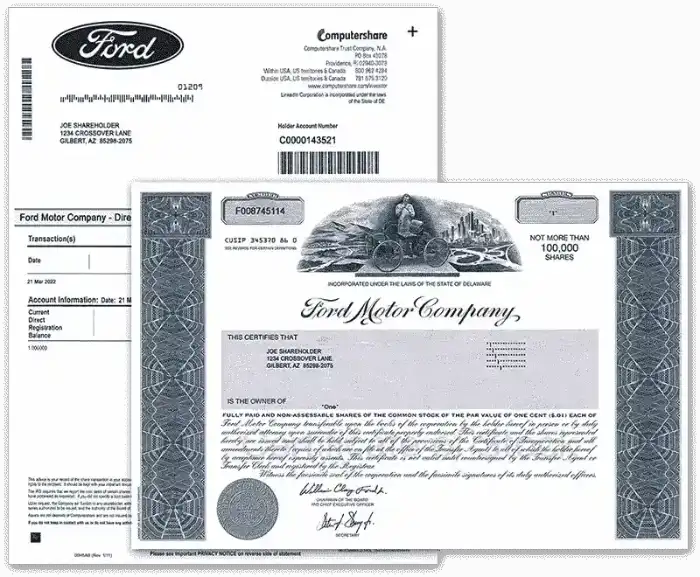 Shareholder Ownership Document
3-7 weeks later (legal registration process)
Depends on what you order, either:
Mailed to Shareholder address
Give Them a Company They Love
At this point, investment value is not as important as picking a company they identify with and grabs their attention.
Let Them Experience True Stock Ownership
Shareholders are entitled to annual reports, dividends, voting and any perks. Each mailing is a learning opportunity.
Add Our Book
"I'm A Shareholder"
Teaches kids the basics about stocks and being a shareholder.
Unique Gifts for Adults Too!
Frequently Asked Questions
Absolutely! The recipient becomes a real shareholder of the company entitled to anything a shareholder gets, like annual reports, declared dividends, invites to shareholder meetings, voting proxies, etc. That's what makes this gift so unique!
We're fast!
The 1st part (display certificate in your frame choice) leaves our Arizona facility in 2 business days or less. Give this on the occasion.
The 2nd part (either registered certificate or DRS statement) takes 3-7 weeks and is sent to the shareholder address.
Yes!
Note: We accept credit card orders from most countries but a few require Wise or wire transfer to protect us from fraudulent orders.
Ordering is really easy and takes about 1-2 minutes. We only need the shareholder's name and adddress, your option selections, and your billing/shipping info.
We ship out the 1st part in two business days or less and this is what is normally given as the gift. Then we start the legal stock registration process which can take 3-7 weeks. When registration is complete, the ownership document is sent directly to the shareholder because the gift has normally been given at that time.
STOCK CERTIFICATES
(only at GiveAshare)
Proudly display stock ownership
No longer provided by stock brokers
Collectible value


Virginia W.
Tybee Island, GA